Archive for the 'Deuschle, Tom' Category
I was reading Tom Deuschle's Book – Building People — Building Dreams: How a Church Can Change a Nation – and in it he talked about Psalms 37:4 and its real translation.
"Delight yourself in the Lord and he will give you the desires of your heart."  But, once we translate that using the Greek we get: "Make yourself moldable and pliable to the Lord and he will write on your heart, on your subconscious, the desires he wants in your heart."
CLICK FOR MORE INFO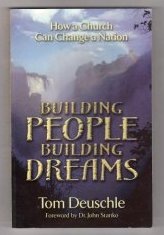 Building People– Building Dreams: How a Church Can Change a Nation